Homemaking
Could the renewed potential for domestic neighbourhood spaces to function as productive workplaces, made possible by networked smart technology, allow for new spatial and social neighborhood configurations?

The project deals with the frontline of industrial redevelopment in Beijing: innovation in the family home.


We explore some of the transformative effects of digital decentralisation in Beijing with the intention to give a new outlook towards domesticity.






Social and technological changes are collapsing our patterns of urban life. Our current era is dominated by ubiquitous connectivity and the proliferation of 'smart' devices: everything from watches to lamp-posts are part of a network: 'an internet of things'.


In the West, critique of 'smart city' solutions has been twofold. Firstly, the increased corporate interest in the production of public space raises a democratic challenge to citizenship. Secondly, deriving profit from efficiency mechanisms risks forfeiting the open and unfinished nature of cities. An issue that threatens both the urban environment and the citizens themselves.


The ambition of this project is to expand the discussion beyond the mitigation of 'smart city' threats, and towards the amplification of potential.


In Beijing, the city is engaged in a widespread and heavy-handed programme of 'conservation' aimed largely at its historic hutongs. In attempting to revert these 1000-year-old districts to their historic barebones, much of their chaotic city-ness is lost.


Might an approach to conservation exist instead in the amplification of their potential?


The hutong has been the site of overlapped programme since its inception. At a point where anyone with WeChat, a QR code has the potential to start a business, the project considers the potential of a highly-networked, flexible neighbourhood, and the spatial potential for operations yet to be unlocked.

The project will ask urgent questions about the future prospect of domestic life and commercial enterprise sharing the same space.

1. Will domestic interfaces continue to supercharge commercial citizenship?

2. How do new types of hybrid domestic and commercial models produce new spatial needs?

3. Can the Hutong escape its development status as a conservation burden?

4. What are the new models of ownership that would make these conditions possible?



A Manifesto for Hackable Neighbourhoods


Design principles for the re-thinking of the new domestic and commercial home and neighbourhood






1. Adapt

Extending the possibilities for existing structures


A means of "keeping up" with changes, and meeting new requirements:
New living requirements
Economic shifts + Mobility
Merging and Blurring of Traditional Boundaries
2. Superuse

The maximum exploitation of given qualities:


As a means of amplifying the qualities of locations, conditions and characteristics.
Using available resources
"Making do and getting by"
3. Divide and Multiply


Exploring the notion of sharing and separating time, space and knowledge


As a means of conquering burdens evenly
As a means of allowing individual successes to empower communities
Restoring places and communities in decline
Sharing in successes
4. Misuse
Hacking designs, forms and conditions for unintended uses.



A means of combating the "Demolish and Rebuild Strategy"



A means of building repairability to increase design and build lifespan



Objects or Buildings that are misused increases bond between: User & Object, Citizen & Community



5. Assist & Connect

Clarifying production and working practices



As a means of increasing access to new information technologies and knowledge



Increasing collaboration and innovation to inspire new social values



6. Adopt
Choosing to take something for one's own use.


Allowing the redefinition of purpose



Rethinking the value of imitation and substitution



As an alternative to replacement



Spatial Catalogue
Communal factory

Deeper into the snaking, and crumbling Hutong alleys we were kindly invited into the residents homes. Mrs. Ling not only cares for her husband and granddaughter, but also runs a growing delivery network from her living room.


For Mrs. Ling, the notion of homemaking is as much domestic life as it is commercial enterprise. Within her lot of 20m2, the edge between these two functions has become blurred.


Within our design guide, a simply constructed working bench allows a Mrs. Ling to better organise her business, and free up the space required to dote on her grandchild.
The hutong is of course not made from neatly packaged A-C grade plywood – locally sourced materials found outside the doorstep fuel the production of interpreted designs.

By freeing up space within the home, would communal factories begin to re-emerge? Recalling the intense period of production within the Hutongs in the 1970s, the factory typology is corrected to become a productive space that families living within the courtyards could share.

Extended upwards with ribbed concrete panels – conveniently cast against the water resistant ceramic roofing tiles –

The future of the factory doesn't need to be cold, clinical or cynical with a few material adjustments.

Workers Club


We followed Mrs. Ling's husband to his afternoon hangout, where we were introduced to his local friends. Together with Mr. Ling, his friends had not been able to find extra jobs after they had been laid off from the closed-down factories.


What we saw was an emergence of an almost anti-typology. Not a working men's club, but an out of work club.


They idled time by playing mah-jong. But as any perfectly competent and skilled labourer would – they were looking for projects.


Cabinetry to be tinkered with, adapted to suit any desired service.


Would the participation of a shared project invite the transformation of an out of work club, back into the social, working club.


Unfolded behind an unpretentious wall clad in roughly-cut roofing felt tiles, a working club supports the social aspects of working side-by-side.


Services Salon



The production of the polycarbonate clerestory in the workers club could be handled by Linda – a local tradeswoman in the hutong.


We propose a blueprint for adapting her mobile, but knackered workshop.


Equally mobile, but infinitely more useful – Linda cuts and stitches the PVC frames to order.


With a growing number of clients – perhaps Linda would be able to run the services garage she'd always dreamt of – showcasing her ability to make PVC beautiful.


Shop



Linda works on the bustling main hutong alley – a street lined with shops which are dressed with red-painted conservatory doors.


Huan's butchers is on the corner. Her shop is small, intimate and surrounded by development. Despite her classic butcher's knowledge of all things meat and herb, her business is struggling to stay afloat.


A space for an expanded itinerary is clad in abundantly-sourced led tiles and allows her to store specialist herbs, imported from her native Mongolia. Could the shop be corrected to become a local amenity, rather than another supermarket chain?


Guesthouse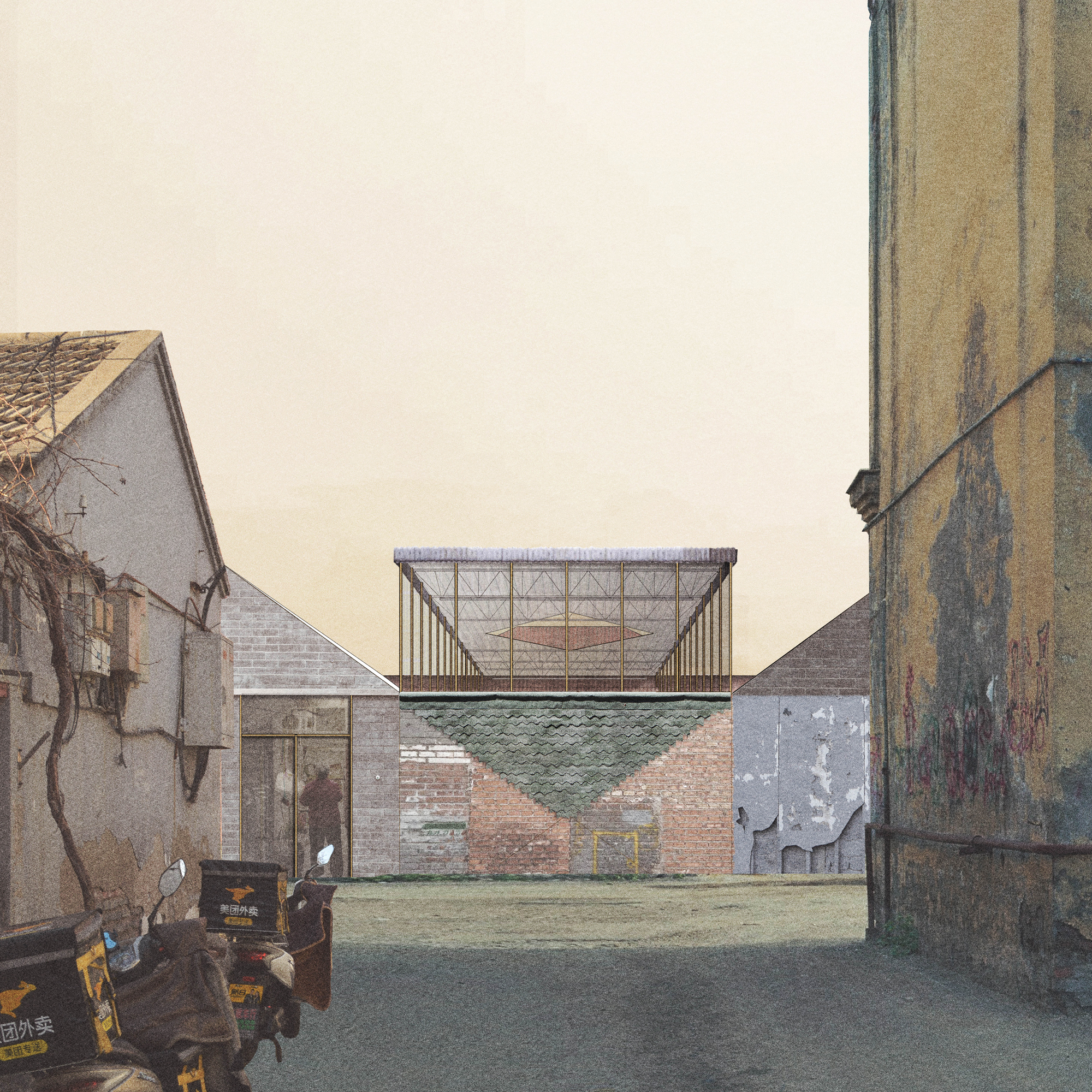 Like many other rural to urban migrants in Beijing, Wendy has struggled to find permanent and affordable living space. In her hometown, she was a head chef. After moving to the city in search of a higher wage, Wendy couldn't keep up with the increased living cost.


Instead, she moved into a temporary situation.


Temporary sub-leasing practice are illegal in Beijing, so the landlord of the properties declined to be filmed.


He has his own problems. His bachelor pad has been reduced to accommodate more tenants, and his son is reluctant to visit his fathers secluded space.


Acknowledging that the courtyards are too cramped to be considered a courtyard – could we rethink the approach to building?


Joining the buildings together would create the opportunity to unfold pockets of shared space. An exterior space shielded by a lightweight mesh would re-establish an entrance from the street.


Internal spaces, covered by a simple roof spanning the existing ridge height allows so-called illegal migrant workers to find solace and calmness amongst the worry of everyday routine.


Careful joinery would allow the Landlord to quickly tidy the bachelor pad back into home sweet home.


And Wendy could start building her distributed kitchen, supported by the existing delivery riders.


The landlord's criminal typology is revised into a guesthouse for those seen as taboo in China.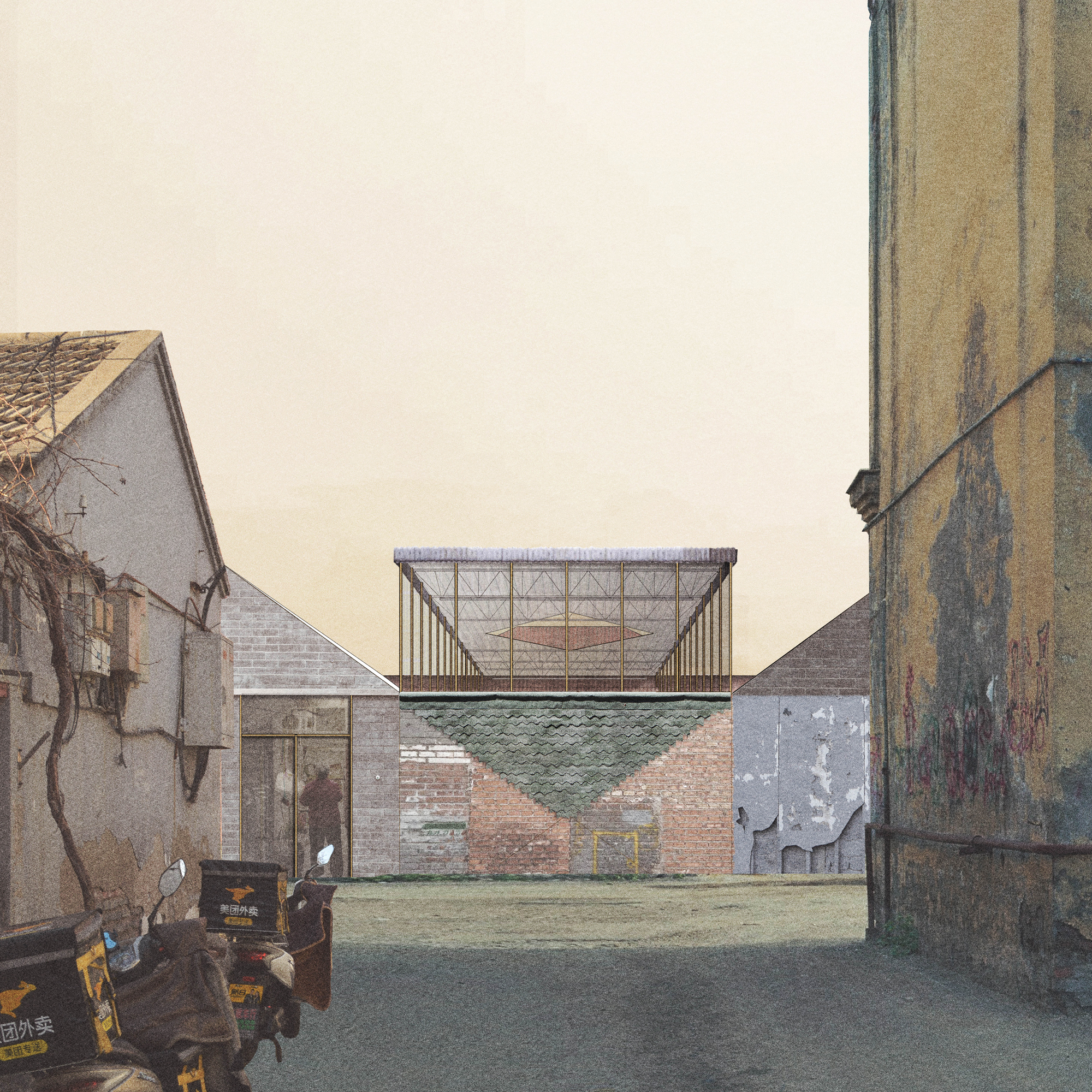 Produced in collaboration with Archie Cantwell & Hugh Diamond.